— By Joseph Bocchiaro III, Ph.D., CStd, CTS-D, CTS-I, ISF-C,
Principal Consultant, NV5 Engineering & Technology
 "The new electronic independence re-creates the world in the image of a global village."
— Marshall McLuhan, Understanding Media: The Extensions of Man
There is broad agreement that the post-virus era will create a "great reset." However, much of the anxiety likely to be felt next will be centered around trust—how does one go back into buildings to work and interact, in-person—after becoming accustomed to telecommunications-enabled social distancing during these stay-at-home times. Anticipating that anxiety, it is time to ask two important questions:
What will it take to give people the confidence to be in buildings with other people again?
What can be done to make buildings cooperate—intelligently—with humans in new ways designed to facilitate and maintain healthy interactions?
Technologists have answers for these conundrums using existing Intelligent Building Technology (IBT) that have been developed over the last decade. While IBT has to date focused primarily on building energy efficiency and maintenance, recent applications have pivoted to humanistic purposes, leveraging occupancy data to support physiological and psychological goals.
These five "big ideas" take IBT and the related technologies of sensors and beacons that define the Internet of Things (IoT) to a practical application with human elements and aspirational goals to improve and safeguard peoples' lives.
Enable Remote Connections
Accommodating a hybrid combination of people inside buildings with an increased cohort at home or elsewhere is the most immediate concern. Many institutions are already prepared for this scenario, as videoconference rooms and distance-learning classrooms have proliferated over the last decade or so. The rapid shift to work at home and online courses has forced many organzations to evaluate the readiness and efficacy of their current facilities, with an eye to next steps in upgrades and expanded use.
Building owners should take stock of their existing assets and consider how additional spaces may be adapted with these telecommunications features. Special considerations will have to be made to include remote workers "in the field," not in their homes. New tools such as AR (Augmented Reality) glasses may be very useful in these circumstances, providing both a view of the field to office workers along with communications with field workers. To support the new required content development, a re-purposing of existing, dedicated spaces such as classrooms is being considered, with conversions into spaces such as lectre capture studios.
Design for Smart Systems
Post-pandemic, the exposure to other people's airborne fluids and residual aerosols is the greatest concern. Social and physical distancing with facemask barriers is the obvious and practical way to mitigate the direct transmission fluids between people. Current experience and anecdotes show that this can be difficult for a variety of reasons: social norms, accidents, or blatant disregard for the risks. The masks must come off at some point, though, and physical distancing will become more important again.
Building owners can implement effective occupant exposure tracking for a variety of purposes using Bluetooth and Wi-Fi beacons and smartphones in buildings. For example, devices can alert people using vibration to warn when proximity is too close, or when an appropriate set-point gathering number such as 10 people or more is identified. This type of IBT technology from the firm Unacast is already being used to monitor social distancing.[1] Further, when someone is positively identified for coronavirus or other diseases, immediate alerts may be sent to anyone who has been in proximity to the infected person so that they may seek testing.
Build Healthy Infrastructure
Air quality monitoring schema may be leveraged to mitigate airborne threats. For example, the LEED™ (Leadership in Energy and Environmental Design) program—known primarily for building energy efficiency criteria—offers useful and required guidelines designated as Indoor Air Quality (IAQ). Applying these guidelines as a baseline to include viruses and bacteria—which fall under the PM (Particulate Matter) categories—beyond the traditional CO2, CO, and VOC (Volatile Organic Compounds) could prove effective. Designing for smaller "zones" or even "microzones" in HVAC systems can help to build occupant confidence in their air quality. In extreme or executive spaces, they can be localized to include individual zones.
A variety of sensors are available to integrate for monitoring compliance. Other, more human-oriented guidelines from Well[2] and Fitwel[3] also address some of these same issues. Features already present in BAS (Building Automation Systems) equipment that monitor air filter conditions can be used to send this data to occupant-facing dashboards. Displaying this data in digital signage in lobbies and other circulation paths can give occupants the peace-of-mind that their building air quality is as healthy as can be. Standards-based guidelines for such HVAC system best practices are provided by the American Society of Heating, Refrigerating and Air-Conditioning Engineers (ASHRAE).[4]
Expect to see a flurry of new IoT devices being developed that are essential elements of IBT systems. These may be IoT-enabled versions of existing devices, such as with thermostats, fire extinguishers charge indicators, water purifier filter status reminders, etc. New devices could include hand sanitizer and antibiotic soap dispensers with fluid level alerts, breathing masks, and other PPE dispensers, localized air purifiers, or virus test stations.
Although no one can predict which of these devices will be desired in any particular building, buildings can be designed to accept them and connect them to the IBT systems. There will likely be of particular interest in restrooms, where the most extreme precautions will be taken to ensure occupant confidence. New building-related smartphone apps could include information such as when the restrooms were last cleaned, which stalls are ready, occupancy status, etc. A transition from group to individual restrooms may also be in the space planning future.
Create App-Based Connections
Beyond air quality issues, one of the early indicators of coronavirus infection is heightened body temperature. IoT devices such as smartwatches and fitness bands that are already worn by millions of people around the world are tracking their owners' temperature on an ongoing basis. One company, Kinsa,[5] is using crowdsourced body temperature tracking to alert public health officials to potential concentrations of infected people.[6] This same technology may be used on a building-wide basis for similar purposes.
Yet another promising IoT solution being pioneered at Carnegie-Mellon University uses voice recognition to identify voice signatures that are characteristic of people with COVID-19.[7] This is based on crowdsourced input that could become more accurate through time. Occupant voices within buildings could be monitored for such signatures by deploying microphones throughout the building, as with gunshot detection systems, or via dedicated test stations.
It is possible to create smartphone "apps" that are specific to a particular building, campus, or enterprise. These apps would be the likely interface between the building occupants and the IoT devices being implemented. The usefulness and accuracy of the data would be dependent on occupants' permission to participate, and as with any such app, there would need to be a level of confidence in the cybersecurity of the system. There are already examples of such apps in retail, museum, and higher education venues, among others. Additionally, public displays such as kiosks, displays in lobbies, elevator lobbies, etc. could satisfy some of the communications needs with people not participating in the "app program."
Attention to the real-time potential of infection to be spread among building occupants may also be communicated by building-wide emergency announcement messages. Building owners may consider updating their announcement systems to comply with NFPA 72: National Fire Alarm and Signaling Code. This would apply particularly to buildings "grandfathered" without these emergency announcement capabilities. New connectivity between IBT systems and the announcement systems could help expedite getting the message to occupants.
IoT devices have long been useful in automating various business transactions, and it is time for building professionals to consider incorporating them in a more dedicated manner in the built environment. For example, smartphone apps may be used to order from "grab & go" cafes with trusted virus protection schema, to minimize human interaction. Likewise, dedicated rideshare pickup/drop-off locations may be built for the same purpose. These ideas will become even more important in the transition to deploying more autonomous vehicles.
Additional building-wide preparations may include relatively recent innovations. For example, occupants will certainly have heightened awareness of what they touch or who and how many people they are encountering. This could include doorknobs and strikes, elevator buttons, intercoms, and many other common interfaces. Many people may choose to be alone in elevators and may wish to have indicators that elevator cabs are empty.
Many of these ideas may be implemented with voice-activated, touch-free devices. Entrances to facilities will be the most important, and security systems may be similarly enhanced. Entrances will be particularly important as the gateways for infection and may be equipped with disease detection systems. These may be automated, with temperature, blood sampling, or other appropriate technologies, or with new types of personnel stations manned by testing professionals.
Manage Change & Confirm for Confidence
A successful approach to incorporating these technology implementation ideas in buildings begins with empowering a new role, that of the Intelligent Building Technology Project Manager to oversee the project's efforts. Both the ANSI-TIA 4994 Standard for Sustainable Information Communications Technology and the ANSI/BICSI 007-2017: Information Communication Technology Design and Implementation Practices for Intelligent Buildings and Premises provide guidelines for coordination and project phase implementation. These two building-systems standards equip practitioners to deliver design packages that include interconnectivity drawings and specifications. As with any guidelines, especially those involving technology interactions, training and encouragement/enforcement is needed for the mitigations to work properly.
Complementing existing Building Commissioning agency (CxA) processes, new Occupant Commissioning (CxO) plans could be created to ensure that all permanent and temporary occupants become willing partners in ensuring theirs and others' health. As many building owners learned through years of experience with the LEED™ program, a lack of occupant "buy-in" can lead to abandonment or "gaming" of the system, resulting in reduced advantages of the investment.
Next Steps To The Great Reset
When implementing any new technology, some unforeseen consequences and interactions should be carefully considered. In the case of the five steps described above, there may be a tendency to "infantilize" people such that they will have to pay less attention to what is happening around them, as they become dependent on the technology. This is no different than some other areas of peoples' lives, particularly in transportation, where more and more automation is being incorporated into automobiles. These five ideas are intended to create safer and less stressful environments.
Once again, McLuhan's observations predicted the future: "The Age of Anxiety is, in great part, the result of trying to do today's job with yesterday's tools and yesterday's concepts." Pro-actively planning for returning to buildings now, with new tools, will make the transition to the post-coronavirus era smoother, less anxious, and more successful.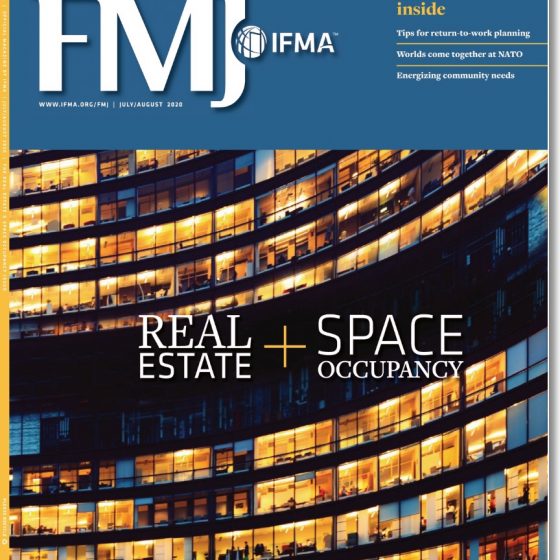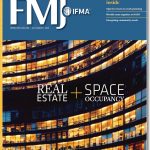 This article originally appeared in the July/August 2020 issue of the International Facility Management Association's FMJ magazine.
ABOUT THE AUTHOR
Dr. Joseph Bocchiaro brings a wealth of audiovisual thought leadership, consultant and integrator experience to  higher education, corporate, financial, judicial, publishing, training and conference centers. With degrees in Educational Technology, Media Studies, Electro-Optical Engineering, and Cinematography (he also studied piano and film scoring at New York's Eastman School of Music), Joe is dedicated to the improvement of audiovisual industry professionalism and its increasingly vital role in the AEC industry. An accomplished writer and presenter, Joe has published over 100 technical articles in professional journals and has presented across 16 countries at more than 50 audiovisual and information technology conferences. Contact Joe at 617.933.9226
[1] https://www.unacast.com/covid19/social-distancing-scoreboard
[2] https://standard.wellcertified.com/well
[4] ASHRAE Standard 90.1: Energy Standard for Buildings Except Low-Rise Residential Buildings
[5] https://www.kinsahealth.co/
[6] https://www.nytimes.com/2020/03/18/health/coronavirus-fever-thermometers.html
[7] https://futurism.com/neoscope/new-app-detects-covid19-voice