– by Ron Cochran
2020 changed the way people communicate and congregate. We all had to get used to seeing family, friends, and coworkers from afar via a variety of video/streaming apps. Businesses and schools were forced to make drastic changes to approximate business as usual. However, prior to 2020, many churches already enjoyed a significant online presence. They were well equipped for streaming and broadcasting in March of that year when most gathering spaces throughout the country closed their doors. In the weeks immediately following the shutdown, it was almost business as usual. A familiar cast of worship bands, singers, techs for audio, video, lighting, computer graphics, and lyrics, and of course a teaching pastor delivered the message, all to an empty room. The programming was already established and the equipment was ready to go. So, church happened. It may have felt a little awkward for the worship leaders and the teaching pastor, but we used the tools we had to deliver the word. For churches that may be forced to close due to the occasional snowy Sunday, this was not exactly a new experience.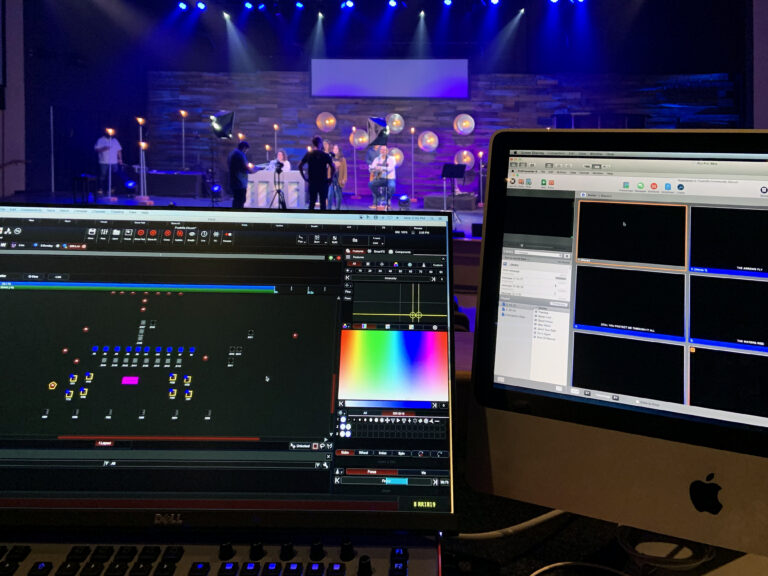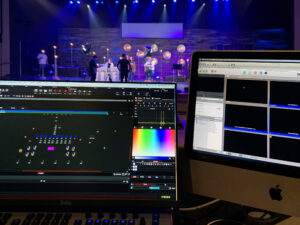 In the following months there was a new birth of creativity as the 'in-room' experience was no longer a contributing factor to the production. The worship platform itself became a sound stage. Camera positions were moved closer to, or onto the stage.  Churches began pre-recording audio and video in smaller intimate venues, chapels, and, believe it or not, even barns. Even occasional 'living room' worship sets flooded YouTube and social media. With significant investments in broadcasting and postproduction technology, churches were experiencing an unprecedented level of innovation online.
Most churches have now fully re-opened with substantially improved online production capabilities and experience gained during the months of shutdown. Equipped with new knowledge, high quality equipment, well developed skills, and talent, the new normal is far more advanced than simply reverting to pre-shutdown routines. The bar has been raised.
Church leadership has been forced to address a very important question; What is the objective of our online worship experience? Every ministry aspires to have its own unique voice in their community. This includes their online community. Of course, there are very practical reasons for establishing and maintaining an appealing online presence. It is the new "curb appeal", and statistics indicate that 33% of churchgoers found their church online. But that is a very simple metric, merely indicating that online worship is here to stay.
In order to truly determine a church's purpose for an online worship experience, a clear and intentional understanding of their unique mission is necessary. Most churches earnestly avoid the idea of "it's what all churches do, so we need to do it too."  The question leaders struggle with is, "Is online worship a tool to attract people to the building for in-person attendance, or is it a substitute for in-person worship?" The answer can be found in a commonly used phrase in church leadership environments, "Both And", with overlapping benefits and pitfalls.
There are churches that unapologetically embrace the "online campus," providing interactive resources not only on Sunday but throughout the week. Featuring video podcasts, online bible studies, and virtual group activities for a new generation of online participants, these churches have little expectation of attracting more people to the building. While statistically very successful, this approach is not without controversy. Other ministries, that may present a very similar online presence, are very specific in encouraging viewers to attend in person if possible and to utilize their online offerings, but to seek out a local church to connect with in-person.
One well known pastor with a military background leads his church in an effort to use their web presence to appeal to service members around the world. Although their programing is broadly based, it is clearly created with military families as a primary focus.  Another church provides resources to their nearby prison and jail systems, streaming their content into those facilities as well as to the public. This partnership has had a very positive impact in the area.  Some ministries endeavor to serve their communities as a "church without walls." In this approach, live hosts interact with the online community before, during, and after the worship services. They also provide online resources 24 hours a day, featuring virtual one-on-one counseling sessions, prayer partnership forums, and even music lessons.  This virtual town square approach is growing and developing exciting new ministry opportunities. These are just a few examples of how churches are being very intentional with their online presence.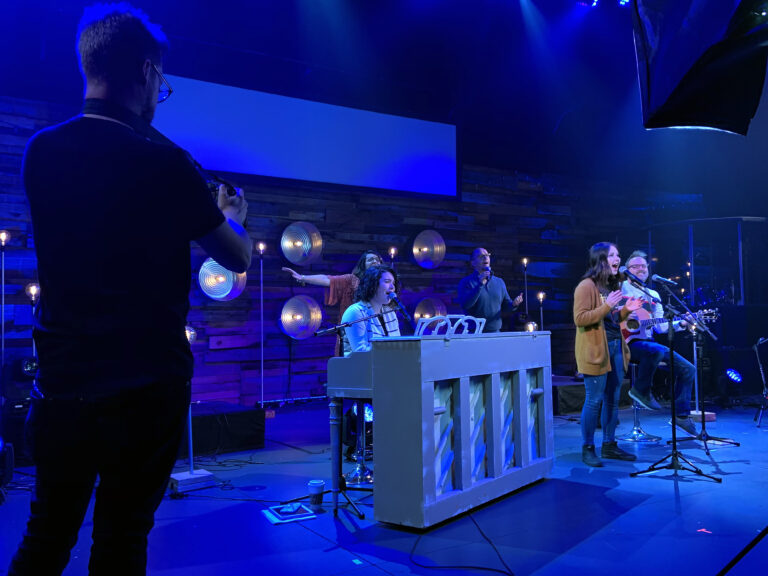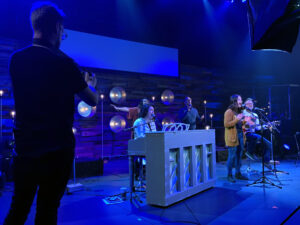 Budgetary factors must also be considered when church leaders are allocating resources to support online production verses in-house production. For a church that is being intentional about bringing new people into the building, a higher ratio of in-house attendees verses online viewers is the goal.  For churches that consider their online community a virtual campus, that ratio would typically be reversed.
As exciting as these new innovations are, proper human resources are needed to implement them effectively. A skilled and talented staff must possess the ability to lead and coach the true backbone of any church, the volunteers. Anyone with church experience would agree that many organizations are understaffed and sometimes overworked. This requires thoughtful deployment of the church's most important resource, its people.
Hypothetically, a typical modern church with 2000 seats may have 200-300 viewers during the live stream on YouTube and social media.  Over the following weeks, it's not uncommon for those views to increase to well over 1000. Given the perpetual existence of online videos it is reasonable to expect there will eventually be more views than the original 2000 in-person attenders.  This presents leadership with a dilemma of where to allocate a potentially limited pool of talent. Do higher skilled personnel get assigned to the in-room experience or the online experience? Of course, some churches have very large budgets for technical contractors. This is not uncommon in large church markets, such as Atlanta or Dallas.
As the online church presence continues to grow and impact their communities, the lessons learned during the COVID shut-down and subsequent innovation have set the tone for the future. Both large and small churches have implemented the wisdom of finding their purpose first and foremost, then assembling the right people with the talent and heart for the mission, and lastly investing in the technology. And we all get to benefit from it every Sunday!
Ron Cochran is a Worship Arts Consultant in the Atlanta GA office of NV5 Engineering & Technology (formerly Sextant Group). Ron is our in-house subject matter expert regarding audio/video/lighting for worship projects.
Use the form below to share your thoughts with us about technology design for worship spaces.