Greg "Rudi" Rudolph will be the Hydrospatial Practice Lead for NV5 Geospatial's Hydrospatial Services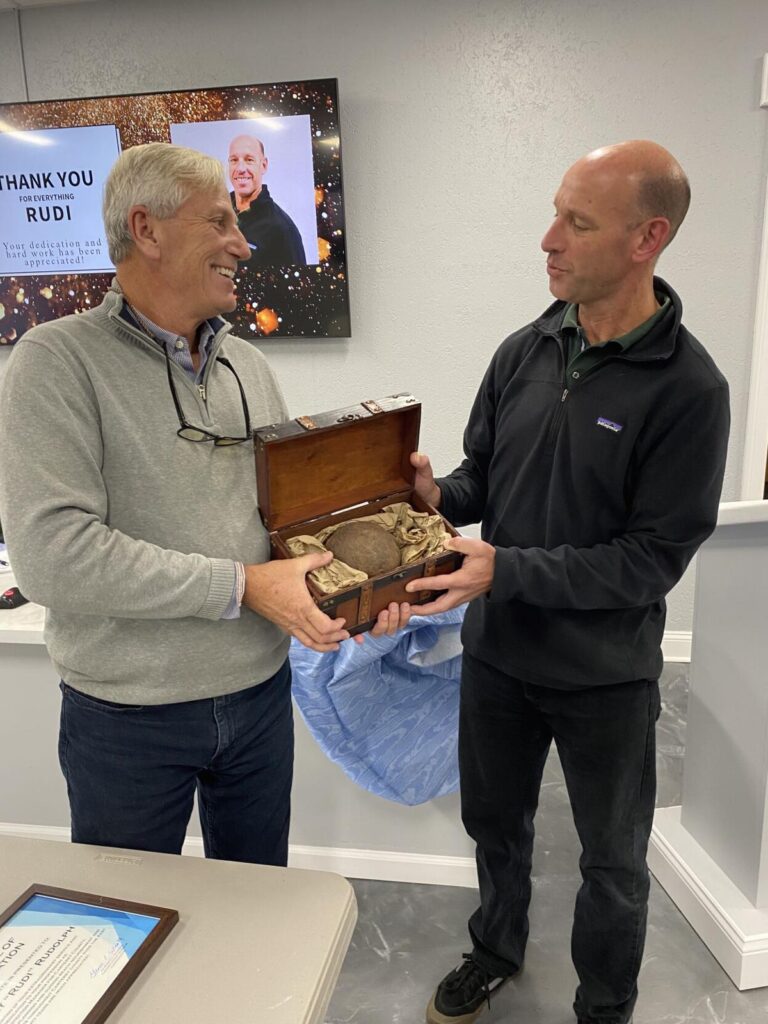 Greg "Rudi" Rudolph is the youngest person in history to receive North Carolina's highest civilian honor, the Order of the Longleaf Pine.
Carteret County Beach Commission Chairperson Jim Normile, left, gives former Carteret County Shore Protection Officer Greg Rudolph a cannon ball in a box Tuesday for making a "big splash" during his nearly two decades in the position. (Brad Rich photo) Read the full article on the Carteret County News-Times.
Greg "Rudi" Rudolph's initial responsibilities will balance Program and Account Management with existing and new clients, while providing general oversight on current projects and operations. His first day with NV5 Geospatial was November 22nd.  
Rudi brings a passion for Coastal/Marine Geology to bolster NV5 Geospatial's Hydrospatial Services (led by the recent acquisition, Geodynamics). He comes to NV5 Geospatial from Carteret County Government, where he served as the first and only Shore Protection Manager since its inception in 2001, building the County's Shore Protection Office and its management structure from the base floor directly serving a legislatively created 11-member Beach Commission, four beach municipalities, the County Board, and a plentitude of stakeholders. He developed and managed the largest annual Beach & Nearshore Survey Program in the U.S. and pioneered integrating the program into a web-based GIS platform successfully.      
"What excites me about Rudi coming to NV5 Geospatial is his incredible subject matter knowledge and experience," said Mark Abatto, President and COO of NV5 Geospatial. "He understands how hydrospatial data is collected and how to apply the data for coastal management initiatives and multi-million-dollar construction projects successfully."  
"I'm looking forward to onboarding with NV5 as we will strive to grow our hydrospatial portfolio by providing superior services and products to a broad client spectrum", said Rudi. "My experiences across government and industry sectors, coupled with contracting, project management, and administrative acuity meshes perfectly with this new and exciting position of Hydrospatial Practice Lead and our overall vision for the future. I can't wait to get started."     
Rudi holds an M.S. in Coastal Geology and B.S. in Geology from East Carolina University and a B.A. in Biology from UNC-Charlotte. At East Carolina University he was the recipient of the CQ Brown Award (geology department scholarship) and was selected for the National academic honor society of Phi Kappa Phi. He has served on the board of directors for the American Shore & Beach Preservation Association, N.C. Coastal Resources Law, Planning, & Policy Center, N.C. Sea Grant Outreach Advisory Board; and is presently the chair of N.C. Coastal Resources Advisory Council and member of the State's Coastal Hazards Science Panel. 
About NV5 Geospatial 
NV5 Geospatial, powered by Quantum Spatial, is North America's most comprehensive provider of geospatial services, providing end-to-end solutions and insights to organizations that need geospatial intelligence to mitigate risk, plan for growth, better manage resources and advance scientific understanding. We combine the widest array of advanced remote sensing technologies with proprietary processes, analytics tools, algorithms, and analyses tailored to meet our clients' needs. For more information, visit nv5geospatial.com, join us on LinkedIn, or follow us on Twitter @nv5geospatial.