As companies have their employees return to office environments, how might they instill confidence that the employer in conjunction with the building management and operations team is providing the safest condition possible?  How can visitors to buildings (offices, restaurants, retail, educational institutions, and other facilities) have the same sense of safety for their health and exposure to limit further spread of the virus?  International WELL Building Institute (IWBI)TM has the answer—the WELL Health-Safety Rating system.
This WELL Health-Safety Rating system guides building owners and operators by providing a rigorous program for facility teams, vendors, and office managers to follow.  It not only responds to our current COVID-19 challenges, but it also considers a higher-level of cleaning standard options, enhanced protocols and procedures, disaster response plans, stakeholder communication and information checkpoints to ensure you are not only safe at this property, but also that the operational policies, maintenance protocols and emergency plans are in place.  This science-backed third-party verification is a system for labeling buildings and spaces for "Health-Safety" building environments at re-occupancy.  The label provides assurance for all who enter "peace of mind" that the property owner and management team are concerned with your personal welfare– both your safety and your health, and also commits to continuous measurement in meeting these high standards.
The WELL Health-Safety Rating is more than just a label on your door, it symbolizes that your organization has raised the bar on preparedness as we face the challenges of the current pandemic.  Your health and safety is the priority, and the rating provides property teams and office managers with a playbook for a safe and healthy re-entry.  The rating includes 21 features across the following core areas:
Sanitation Procedures
Emergency Preparedness Programs
Health Service Resources
Air and Water Quality Management
Stakeholder Engagement and Communication
Innovation
Resources and organizations lending framework to our guidelines in this Health-Safety Rating include:
CDC – U.S. Center for Disease Control
WHO – World Health Organization
OSHA – Occupational Safety and Health Administration
ASTM – American Society for Testing and Materials
EPA – U.S. Environmental Protection Agency
Among others: WELL Research Advisory, WELL Advisory for Sports & Entertainment Venues, WELL Advisory for Hotels and Resorts, the WELL Airport Advisory and other global disease and prevention center and emergency management agencies.
In response to COVID-19, the IWBI TM used their already formed WELL Building Task Force to help develop this WELL Health-Safety Rating, and NV5 has two active members involved in this task force– Dalene Zabel, CIH, WELL AP and Kathy Collins, AIA, WELL AP.  NV5 is also one of the first WELL Performance Testing Organizations (PTO), and Dalene and Kathy are both WELL Performance Testing Agents.
Learn more about WELL Building Certification and the WELL Health-Safety Rating by visiting: https://www.wellcertified.com/
As a certified "Performance Test Organization" (PTO) performing tests for certification on behalf of the Green Business Certification Inc. (GBCI), NV5 is the most qualified organization to help you excel in performance testing for WELL.  We have contracted with laboratories that not only meet the GBCI WELL laboratory requirements, but are specifically engaged in drinking water testing and indoor air volatile organics analyses.  We utilize our own direct reading instrumentation for onsite testing that meets the requirements of the GBCI.  A WELL AP and a Certified Industrial Hygienist (CIH) are involved with all building performance testing.
NV5 CAN PROVIDE THE FOLLOWING PERFORMANCE TESTING:
AIR

•    PM2.5 and PM10

•     Formaldehyde

•     VOCs

•     Carbon Monoxide

•     Ozone

•    Nitrogen Dioxide

•    Radon

WATER

•    Turbidity

•     Coliforms

•     Disinfectants

•    Laboratory-based Contaminants

LIGHT

•    Visual Lighting

•     Circadian Lighting

THERMAL COMFORT

•    Dry-bulb Temperature

•     Mean Radiant Temperature

•     Relative Humidity

SOUND

•     Background Noise Levels

•     Sound Masking

•     Reverberation Time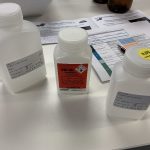 To support WELL Building Performance Testing, NV5 has CIH professionals, MEP engineers and WELL Accredited Professionals (APs) on staff to support WELL Buildings from Certification to Performance testing to WELL Health-Safety certifications.  Want to know more?
Please contact NV5's WELL Building Performance Testing Team at well@nv5.com.
We will answer any questions you may have about the process.  With just a few details about your project we will provide a services quote specific to the needs of your team and project.