Quantum Spatial River Analytics Symposium
-Russ Faux, Sr VP
Quantum Spatial successfully hosted its first River Analytics Symposium at our Corvallis, Oregon office on October 29th.  The Symposium explored a range of salient topics ranging from river restoration, quantified conservation, habitat analysis, and the application of advanced remote sensing technologies such as topobathymetric lidar and thermal infrared imagery. The Symposium had over 80 attendees that represented a diverse background of expertise from Federal and State Agencies to Tribes, NGO's, Universities, and engineering firms.  The Symposium concluded with an engaging look at how high resolution spatial data are being used to support planning for the Klamath River dam removal project.
Quantum Spatial would like to take this opportunity to thank all of the presenters and participants for a great Symposium.   Click the links below to access the symposium presentations.
Remote sensing technologies that improve our understanding of riverine systems Colin Cooper, Quantum Spatial
Beyond Bathymetry: Mapping benthic habitats and supporting ecological assessments – Chris Parrish, PhD, Oregon State University School of Civil and Construction Engineering
NASA's Western Water Applications Office overview Mark Davidson, NASA JPL Western Water Applications Office
The next generation of conservation tools Joe Whitworth, The Freshwater Trust
Stream temperature, technology and tools Mousa Diabat, Quantum Spatial
Overview of methods and data used to develop temperature TMDLs Ryan Michie, ODEQ
Water temperature models and remote sensing data for Grande Ronde River basin restoration Casey Justice, CRITFC
River Analytics: Habitat classification and modeling Mischa Hey, Quantum Spatial
Leveraging multiple spatial datasets to quantify salmonid habitat on the Willamette River, Oregon James White, USGS
Habitat capacity estimation for IRA and MRA
Integrating unmanned aerial vehicles into habitat monitoring methods Lauren Burns, CRITFC
Is elevation the surrogate for everything? Kelley Jorgensen, Wapato Valley Mitigation and Conservation Bank
Dam removal and restoration Scott Wright, River Design Group
Jeff Danielson, CoNED Applications Project Chief with USGS Earth Resources Observation & Science Center, presenting goals of the Niobrara River topobathymetric lidar pilot study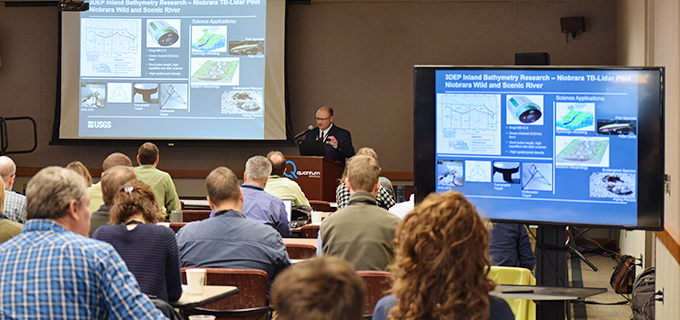 Joe Whitworth, President of The Freshwater Trust, presenting on the next generation of conservation tools for Pacific salmonids.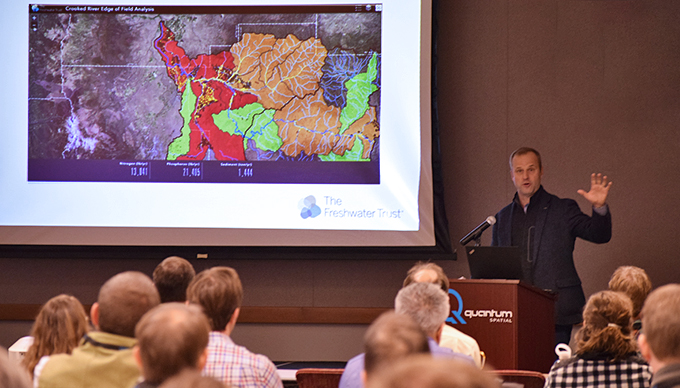 Lauren Burns, Fishery Biologist with the Columbia River Inter-Tribal Fish Commission (CRITFC) illustrating Structure-from-Motion UAS technology to map stream habitat in the Grande Ronde Basin, OR.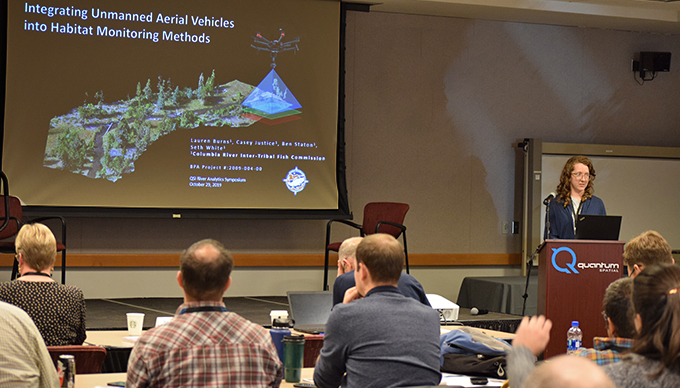 Christopher Parrish, Associate Professor of Geomatics, Oregon State University, discussing benthic habitat characterization with sea-, lake-, or river-bed relative reflectance measurements.