On April 5th, Quantum Spatial is hosting PDX Women in Technology! Our experts will discuss a variety of technologies and applications related to the remote sensing and geospatial analytics industry. They will share insights into career paths and job opportunities. Read more about the presentations below.
*The event is free, but space is limited; register HERE to reserve a spot.
What is Remote Sensing?
Heather Borunda-Ferguson
Do you like troubleshooting, creative solutions, and maps?  Heather Borunda-Ferguson will discuss an overview of the remote sensing industry and products at Quantum Spatial Inc.  Learn how this science applies to dozens of applications and the opportunities for women from a variety of educational backgrounds.  Heather is a production manager specializing in imagery processing and analysis and has been with Quantum Spatial for over four years.
Utilities Analytics and Geospatial Software
Camille Westlake
Have you ever contemplated powerlines?  There is a lot that goes into providing you with electricity.  Learn how utilities use geospatial data to help manage issues and how we create software to help manage that data.  Camille is a solutions developer who helps design new products for utilities. She has been with Quantum Spatial for eight years.
Machine Learning
Kris Barkume, PhD
Quantum Spatial collects terabytes of remote sensing data every month in a diverse set of environments and conditions. Kris Barkume will show how our team uses machine learning algorithms to help turn these massive, challenging data sets into actionable solutions for our clients.  As a project manager, Kris oversees the production of Quantum Spatial's innovative energy sector products.
Applying Developer Skills to Business Intelligence
HeatherAnn Bromell
Not all data is delivered to a client.  Our Enterprise Systems team mines internal data to provide insight to our organization.  Relying on knowledge of SQL, basic statistics, and a bit of creativity, HeatherAnn Bromell will show how her team integrates data across disparate data sources into a coherent framework for real time reporting and detailed analysis. HeatherAnn is a business analyst who has been with Quantum Spatial for six years.
GIS and Private Contracting
Emily Bray-Nash
Learn about one less-traditional approach to getting started in a geospatial career. Emily Bray-Nash began a GIS consulting business tailored to nonprofits performing habitat restoration in the Upper Klamath Basin of Oregon. Emily is now an Analyst specializing in utility analytics and has been at Quantum Spatial for two and a half years.
A Beginner's Approach to Tackling Python Scripting
Liz Johnson
Liz Johnson is just beginning their journey into the amazing world of Python. In this interactive presentation, learn some of the ways we use Python to automate boring tasks and integrate the ArcPy packages into geospatial analysis and data processing. Liz encourages attendance from the full spectrum of those who have a curious interest in the language to those veteran programmers whose dreams are scripted in Python. Curiosity and well-founded knowledge are equally appreciated! Liz is a technician who has worked at Quantum Spatial for 1 year.
Thermal Modeling of Stream Systems
Annie Trambley
High-resolution, remotely sensed data has many useful applications; Annie is part of a team that uses ArcGIS, TTools, and Heat Source numeric modeling software to analyze ortho-photographs, stream flow, LiDAR, and thermal infrared radiometry (TIR) data in order to perform thermal modeling of stream systems.  Annie has enjoyed the company of her fellow Quantum Spatial colleagues since she joined the team in 2011.
Ground Modelling with LiDAR Technology
Lisa Schmidt
What technology is available to create engineering grade accurate and precise representations of the earth's surface? LiDAR technology is incredibly useful tool to aide in geospatial analysis and Quantum Spatial is at the forefront! Lisa Schmidt will talk about ground modeling with LiDAR- the process and its applications to everyday life that many are unaware of, even within the technical industry.  Lisa has been a remote sensing technician at QSI for a year and a half leading ground model processing.
Field Operations: Survey and Sensor Operation
Anna Stifter
Caught daydreaming at your desk about a career outdoors? Quantum Spatial's highly skilled field staff work nationwide, 352 days a year in variable conditions and environments. Anna will provide an overview of field positions, walk through a typical day of operations and discuss the field culture Quantum Spatial cultivates. Stick around for some hands on experience with survey equipment!  Anna has collaborated with Quantum Spatial for three and a half years with positions in the field and the office.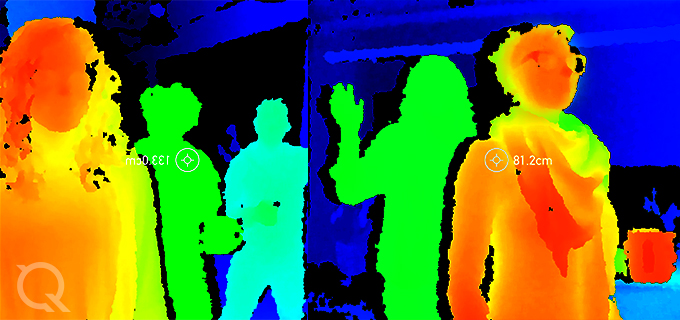 About Quantum Spatial
Quantum Spatial, Inc., the nation's largest independent geospatial data firm, provides geographic insights to government and corporate organizations that need geospatial intelligence to mitigate risk, plan for growth, better manage resources and advance scientific understanding.  A pioneer in advanced mapping technology, Quantum Spatial's end-to-end solutions and services deliver the industry's highest data quality and accuracy, while leveraging the widest array of technologies for analyzing all types of terrains.  Customers use the company's acquisition, processing, analytics and visualization solutions in a range of technical and scientific disciplines- from geology and biology, to hydrology, forestry and civil engineering. For more information, visit QuantumSpatial.com, join us on LinkedIn or follow us on Twitter @QuantumSpatial.
About PDX WIT
PDXWIT is a community-based non-profit organization. Our purpose is to strengthen the Portland women in tech community by offering: educational programs, partnerships, mentorships, resources and opportunities. We are unifying a supportive environment for current and potential women in tech, all of whom are committed to helping each other. Our goal is to bring together and empower women in tech and to encourage others to pursue tech careers. This is our step towards reducing the gender imbalance in the industry and addressing the current negative effects of that imbalance on women. Trans and non-binary people are always welcome at our events.