-by Justin Meyer, LEED AP, INCE
As acousticians, we get to see and hear a wide array of interesting things that many people don't. It may be taking sound level measurements of wind turbines scattered across rolling hills, the manufacturing process of a consumer staple that we all have in our cupboards at home, mechanical noise in a top-floor condo, or a car shredder. Some are forgettable — a certain wastewater treatment plant that had just experienced a sludge flood event comes to mind. Others are difficult not to enjoy — measuring sound levels at outdoor concerts in the summer are certainly one of those. Whatever the case may be, the variety in what we get to work on and experience as acousticians is something that I feel fortunate to have in my professional career. As such, it shouldn't be surprising that there is a certain level of enjoyment and anticipation when a client calls and says, "Justin, you're going to laugh, but…" and jumps into an acoustical challenge that may be unusual.
On one such occasion, I remember a former client calling and asking, "What do you know about fireman folklore?" Laughing and intrigued, I said I don't know anything about it. He proceeded to inform me that some firefighters believe that fire stations are haunted by the souls of those they couldn't save. Now, the staff in a station he had just completed were complaining of being disturbed in the middle of the night by such perceived spirits. It just so happened that a portion of the floor above the bunk quarters was occupied by the area's 911 emergency call center. My client was looking for a way to study acoustical metrics to determine if issues with the floor separation could be the actual cause of this fire station haunting.
As is common with our approach to acoustical problems in existing structures, exploration of the problem and determination of solutions requires a tailored approach to every project. While performing standard acoustical measurements of the impact and airborne noise separation for the floor/ceiling assembly was useful here (ASTC and AIIC performance), it was also imperative to think outside of the box and plan non-typical diagnostic measurements. We needed to understand how the emergency call-center operated, how it was set-up, and how specific elements used by call-center employees may be impacting the space below. In this instance, some of the telltale signs of ghostly activity were sounds described as "thunks" and chairs being dragged across the floor above them in the middle of the night. As such, we anticipated a structure-borne noise source may be the true source of the haunting.
While on site performing the standard acoustical measurements, we spent time digging deeper. One of the things we noticed was that when emergency call-center workers are not actively fielding calls, they have down time. It was also observed that the call-center contained some amenities atypical to many office spaces but fit the needs of an emergency call-center. Some workstations were fitted with treadmill walking desks along with typical office roller chairs. Additionally, some employees kept free weights at their workstations to use in their moments of down time. None of these were as exciting as the paranormal, but all could generate structure-borne noise which could impact the sleeping quarters of the Fire Station below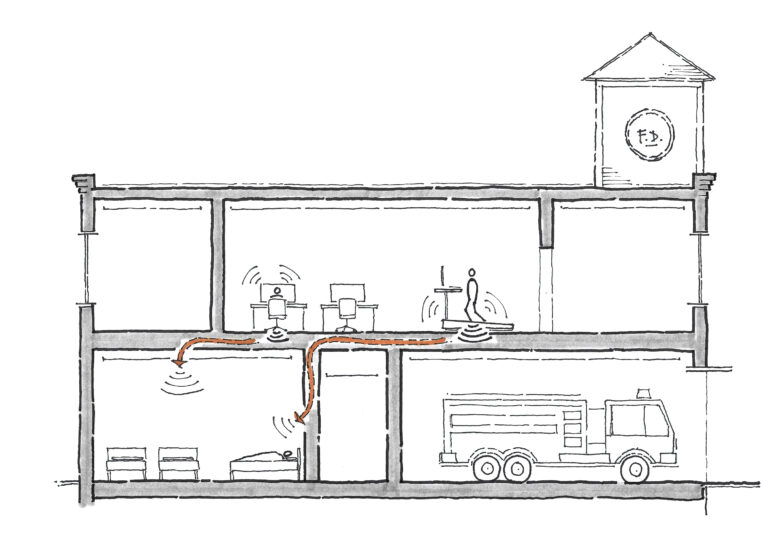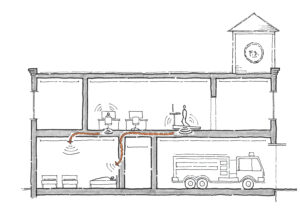 Diagnostic measurements of each of these potential noise sources were performed and compared to the ambient noise level in the sleeping quarters, below. Additionally, the ASTC and AIIC of the floor/ceiling was measured to determine if it was performing as anticipated. In the end, while the floor/ceiling assembly was performing at a high level, structure-borne noise from our diagnostic measurements was discernable in the sleeping quarters. These noises certainly could have been perceived as something spookier than what they were. However, since the emergency call center operated 24/7, it was highly probably that roller chairs and treadmill desks were the cause of the late night disturbances rather than restless spirits.
As an acoustician, it is easy to suggest that one of the primary benefits we provide is our ability to understand the uses of a space through the lens of acoustics. This allows us to provide insight on how adjacencies will impact their neighbors and use this information to inform the design of a project. The earlier we are involved in a design project, the earlier we can provide the project with this input. And while what we do and the equipment we carry may seem fresh off the set of ghostbusters, it certainly is not. We are always here to help provide thoughtful logic and our applied knowledge of acoustics to the next challenge and adventure.
Justin Meyer LEED AP, INCE is a Senior Acoustical Consultant with NV5 Engineering & Technology (formerly The Sextant Group) in Grand Rapids, MI.
Use the form below and share your thoughts with us about acoustical design.