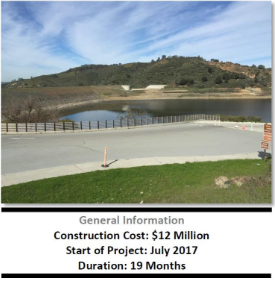 The Hanna Group was selected by the Santa Clara Valley Water District to provide Construction Management Services for the Main Madrone Pipeline Restoration Project!
This project is located in Morgan Hill and will include the installation of almost 14,000 linear feet of 30" and 36" Pressurized Steel Pipe which replaces the existing water lines of various smaller sizes which over the years have been plagued with root intrusion and leakages. This project will restore the Main Avenue and Madrone pipelines to full operating capacity of 37 cubic feet per second from Anderson Reservoir. The upgrade includes replacement of a 1-mile section of pipe on the Main Avenue line which has been out of service since 1994, and restoration of approximately 1.25 miles of Madrone pipeline which has restricted capacity due to root intrusion and deterioration. The project is separated into three different segments all to be installed using typical open-cut construction methods. The segments break down as follows:
Segment 1 – 2,800 LF of 36" Pressurized Steel Pipe from Anderson Reservoir Outlet to Cochrane/Half Road
Segment 2 – 4,860 LF of 30" Pressurized Steel Pipe from Cochrane/Half Road to Main Avenue Ponds
Segment 3 – 6,300 LF of 30" Pressurized Steel Pipe from Cochrane/Half Road to Madrone Channel
The benefits of this project include:
Increases groundwater recharge by about 2,000 acre-feet per year in South County's Llagas Groundwater Sub-basin, a sufficient water supply for 4,000 families of five.
Maximizes the delivery of imported water to treatment plants supplying drinking water to North County.
Saves energy, reduces operating costs, and cuts CO2 emissions by reducing dependence on Coyote Pumping Plant.