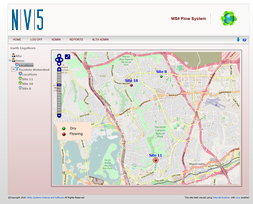 NV5's Water Resources Team recently collaborated with a technology partner to develop a web enabled, client accessible, MS4 Flow Monitoring System (ALTA MS4-FS™). The ALTA MS4-FS™ enables our clients and field teams to track flow conditions and receive flow alerts to address stormwater flows, non-stormwater flows, illicit discharges, or code compliance concerns. Flow data and site information is available at the touch of a button. All data is sent to a secure server with a customizable data portal that is available through smartphones or any web accessible device. This system is a cost effective solution for assessing the MS4 network, open channels, jurisdictional boundaries, and land use specific runoff e.g., targeting over-irrigation or natural flows. System highlights are provided below:
Ultra-sonic sensor provides precision non-contact high resolution level and flow measurements.
Site specific reports generated by the web portal can be used to evaluate flows on daily, weekly, and monthly basis.
Remotely accessible dry weather flow data is useful when conducting dry weather flow source investigations.
The system has the ability to automatically adjust sampling interval as a storm approaches or a threshold level is reached. After the event (storm/high flow) the sampling rate will automatically return to normal rate.
Our water resources services continue to grow as our clients face compliance challenges related to the drought, water use restrictions, and new storm water regulations.