The Chief Sustainability Office (CSO) of Los Angeles County has published their OurCounty 2021 Annual Report Discussion Draft and is seeking public comment from now through August 31, 2021. The OurCounty Sustainability Plan was adopted by the Board of Supervisors on August 6, 2019 as the first ever regional sustainability plan for the County of Los Angeles. The County is now two years into implementation of the plan, which is organized around 12 broad, aspirational, and cross-cutting goals.
Beginning this year, the CSO is combining its annual reporting into one comprehensive Annual Report which describes both progress on the plan implementation and what parts of the plan will be prioritized for the upcoming year. County agencies that lead specific actions in the OurCounty Sustainability Plan also engage stakeholders directly in the planning and implementation of those actions. The OurCounty 2021 Priorities List Tracker spreadsheet contains contact information for the lead County entity of each action, as well as weblinks to locate additional information about how to get involved in select ongoing projects. Out of 159 total actions, 59 are discussed in the 2021 Annual Report. The top two goals with the most active actions are focused around fostering healthy community environments and sustainability managing production and consumption of resources. The table below summarizes the proposed 2021 priority actions associated with each goal.
The OurCounty Sustainability Plan is unique in its regional focus as it moves to confront a wide range of environmental, social, and economic challenges. Examples of the plan's goals and milestones include: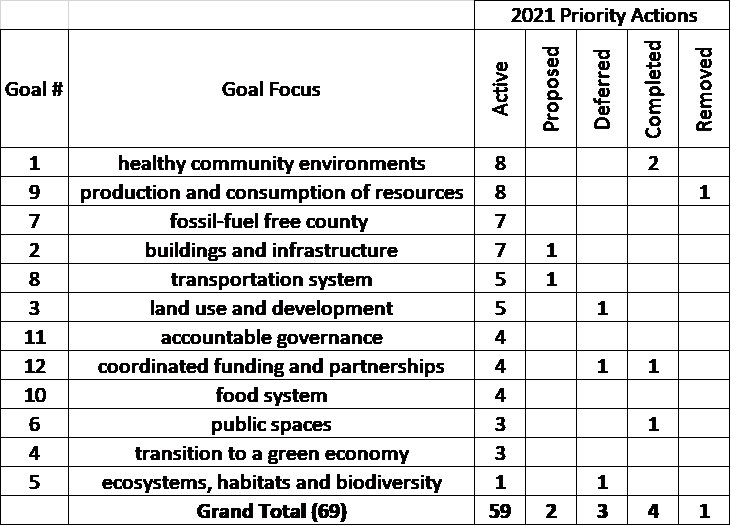 Powering unincorporated areas and County facilities with 100% renewable energy by 2025
Increasing urban tree canopy coverage by 15% by 2035
Diverting more than 95% of waste from landfills
Developing land-use tools to limit new development in high climate-hazard areas
Phasing out single-use plastic by 2025 to ensure a cleaner ocean and less landfill waste
Cutting back on imported water by sourcing 80 percent of water locally by 2045
Ensuring that all residents have safe and clean drinking water, and that rivers, lakes, and the ocean meet federal water quality standards
Leading efforts to make sure that at least 65% of new housing is built within 1/2 mile of high frequency transit by 2035
Supporting construction of more than half a million affordable housing units by 2045 to improve public health and community sustainability.
"Our communities are counting on us, now more than ever, to realize the goals of the OurCounty Sustainability Plan," said Los Angeles County Board of Supervisors Chair Supervisor Hilda L. Solis, Supervisor to the First District. "Historically, we know that low-income neighborhoods and communities of color have suffered the most from pollution and environmental hazards. Representatives of these same communities made sure that the County's plan is centered around equity and environmental justice. Now, it is our turn to deliver on the plan's multifaceted approach.  By lowering air pollution along freeways, ensuring safe, clean water, and eliminating single use plastics, we can make our communities' vision a reality."
NV5 has been involved in more than 300 sustainability projects, assisting our clients in achieving their sustainability goals. Our staff's experience, insights, and practical knowledge demonstrate how to design and build profitable projects with sustainable elements. We have planned, designed, and built wind and solar energy projects providing thousands of megawatts of clean, renewable energy. We also provide energy efficiency services through monitoring-based commissioning to help facilities in several industries, reducing carbon footprints and energy usage.
It is our goal to help clients align with the priorities of the County to achieve its' goals and deliver on the plan's multifaced approach. For further questions or information, contact Kristy Monji, NV5's Senior EHS Consultant at (626) 567-2383.