On October 9, 2020, the South Coast Air Quality Management District (SCAQMD) held a Working Group Meeting for Proposed Rule 2305: Warehouse Indirect Source Rule (ISR). Under the proposed rule, owners and operators of warehouses of 100,000 square feet or greater to implement emission reduction measures. Affected facilities would be required to track and report mobile source activity and earn Warehouse Actions and Investments to Reduce Emissions (WAIRE) points each year.
Under the rule, warehouse owners and operators would be required to track and report facility and mobile source activity data, including:
Warehouse square footage and lease term
Quantity, type, size, and fuel-type of on-road vehicles visiting the warehouse (trucks, vans, etc.)
Number of visits for each vehicle
Quantity, type, fuel-type, and usage for on-site off-road vehicles (forklifts, etc.)
Alternative fueling infrastructure information
In addition to reporting, warehouse owners and operators earn WAIRE points each year. WAIRE points are earned by implemented reduction strategies and measures listed in the WAIRE Menu (Table 3 of the Proposed Rule), which include,
Installing on-site zero-emissions (ZE) charging or fueling infrastructure
Acquiring ZE or near-zero-emissions (NZE) vehicles
ZE or NZE truck visits
Installing and utilizing on-site solar panels
Install filtration systems in residences, schools, and other buildings in the adjacent community
Each year, the facility must calculate their earned WAIRE points and submit an Annual WAIRE Report. A mitigation fee has been proposed as an alternative compliance option where facilities could pay a fee. These funds would then be used on projects within the community to reduce emissions.
The Warehouse ISR is currently in the Working Group stage, and comments from warehouse owners and operators and the public are welcome at any time. If you have questions about the proposed Warehouse ISR, please contact Chris Waller at chris.waller@nv5.com for more information.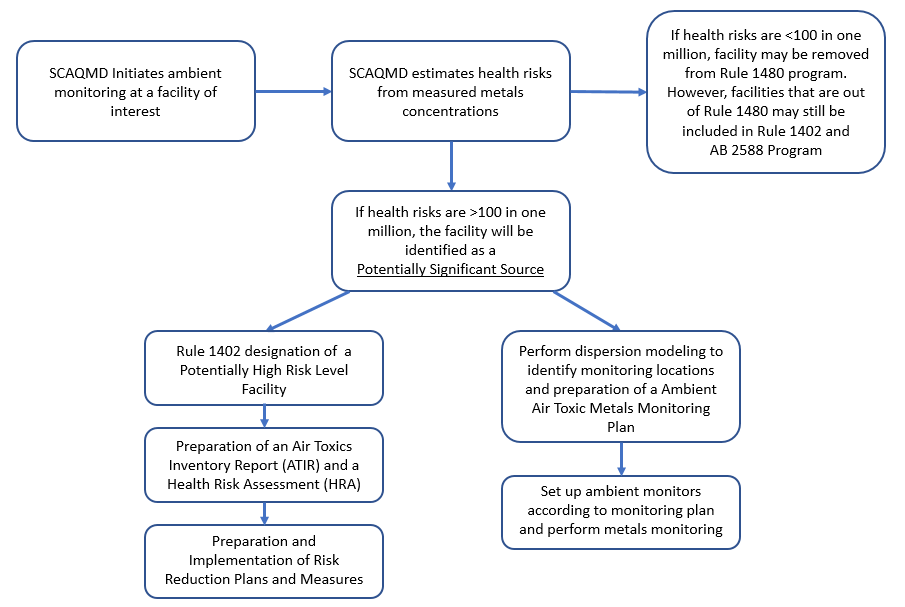 Under the currently proposed framework, facilities pulled into the Rule 1480 monitoring program would be required to develop a monitoring program, which would identify the location of at least one upwind monitor and one downwind monitor. Monitoring would be required once every three days, and sampling would be performed over a 24-hour period. In addition, facilities would be required to install and operate an on-site weather station, collect and maintain monitoring and weather data, and notify SCAQMD of any equipment malfunctions.
Rule 1480 monitoring would result in significant capital and operation and maintenance (O&M) expense. While the rule is still in development, facilities should develop and implement work practices that minimize fugitive emissions. This will in turn minimize the ambient concentrations of toxic metals at off-site monitoring locations and reduce the chances of a facility being identified as a Potentially Significant Source.
The next Working Group meeting is scheduled for March 2019, and the rule is tentatively set to go in front of the SCAQMD Governing Board in the third quarter of 2019.