By Matt O'Brien, NV5 UAV Director
Interest in Unmanned Aerial Vehicle (UAV) mapping capabilities is soaring. Still sometimes viewed as a "tech toy," the equipment and technology carried aboard UAVs for commercial use are a far cry from the drones popular with consumers.
Matt O'Brien, director of NV5's UAV division, discusses the expertise and investment required for UAV LiDAR mapping operations and addresses some common misconceptions about this technology. He founded Skyscene, a provider of UAV flight services, which was acquired by NV5 in 2017.
Entry-level UAV applications are useful for taking pictures and videos. However, a completely different level of expertise, technology and equipment are required for creation of full planimetric drawings or full engineering-grade topographic maps with surfaces and mark-outs. The substantial technology investment, experience and commitment are simply beyond the in-house capabilities and resources of most organizations.
The UAV division at NV5 is focused on UAV LiDAR (Light Detection and Ranging) mapping, topographical mapping and surface creation, as well as overhead and underground utility mapping and design. We operate UAVs that carry highly- sophisticated equipment on board; for example, an advanced LiDAR scanner, thermal cameras, multi-spectral cameras and cameras designed for stereo collection for photogrammetry.
The UAVs operated by NV5 include very robust GPS and base station equipment tied into survey ground control. By integrating state-of-the-art geospatial sensors into our UAV fleet, we're able to capture and deliver data at densities and accuracies most clients have never seen from the air.
We're committed to providing continual education on UAV mapping—both internally and externally—to demonstrate the superior data and results it provides over and above traditional methodologies. Our UAV mapping services collect denser, more accurate data more affordably than other mapping services, adding tremendous value to client projects.
The Evolution of Drones
It is common to think of drones as toys from their mass public popularity, but the complexity of the commercial UAVs and equipment that we operate require a high level of experience. The "ancestors" of UAVs were the remote-control cars, planes and helicopters that I've been a fan of since I was six years old. Once UAV technology was advanced enough to carry cameras on board, they became a powerful tool, used to capture aerial movies and images. While we offer aerial video and images, our main focus is on mapping services.
UAVs are far more cost effective than putting an airplane in the sky because they can cover large areas of ground much faster than surveying crews. Starting with orthomosaic imagery, we made large-scale images for clients and later added multi-spectral imaging, NDVI mapping, thermal images and eventually, LiDAR scanners.
How UAV Mapping Works
UAV data collection is performed by our highly-trained and certified pilots. They set up NV5's state-of-the-art equipment and operate it correctly, following safety guidelines out in the field while working near high tension lines, power lines and transmission poles.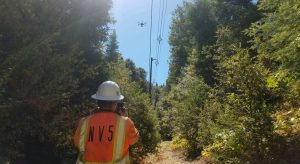 The collected data goes through several processes from the scanner to the final product. The first critical step is retrieving the data from the scanner and processing it into an accurate point cloud. It is then checked with survey control. Lastly, our team completes image processing and classification to provide the standards our clients expect.
There are only a few LiDAR specialists nationwide who can process, classify and handle LIDAR data sets to the same quality as NV5.
The Rise of UAV Mapping
Much of our current emphasis is on overhead utility design and underground pipelines for major utility and gas companies. UAV mapping is a tremendous opportunity for power and utility companies. The use of UAV mapping will continue to grow because there are so many applications.
We provide a full-solution mapping division, from LiDAR mapping and PLS-CADD classification and design, to topographic mapping and planimetrics—any project that requires overhead, aerial mapping. NV5 created this expertise by acquiring Skyscene's UAV services and team to integrate with NV5's mapping technology, investing in equipment and in-house expertise. We're able to provide an entire, full- service solution to our clients from start to finish.
Our UAVs carry a variety of sensors on board, everything from LiDAR, multispectral sensors, regular imagery and thermal sensors.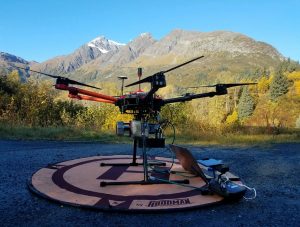 All of our equipment can easily travel to any mapping site on a plane. The cost to transport our UAV pilot and equipment to a job site is the cost of a commercial plane ticket versus mobilizing a plane or helicopter. This is one of the reasons UAV mapping services are cost-effective. Our UAV team has traveled around the country from Alaska and Hawaii to Texas and all over the East Coast, as well as outside the country.
UAV mapping is NOT replacing survey by any means. We are just providing a more efficient approach for properties larger than one-to-two acres. UAVs can cover a large area faster than survey boots on the ground and produce accurate drawings and maps quickly.
Why In-house UAV Services Rarely Fly
Some companies have their own in-house UAV group, but the capabilities are usually limited and not sufficient for engineering design. Building a substantial in-house UAV operation is not practical for most organizations. They might invest in the equipment only to realize they do not have the necessary training or dedicated staff to provide quality UAV mapping services.
Even organizations with full aviation departments find it challenging to introduce UAVs into their operations. The associated expense for equipment and crews is often a barrier to entry.
Instead, it's more efficient and economically viable for companies to work with an experienced, full-service UAV mapping provider like NV5. We are invested in providing the best UAV mapping services by having a dependable UAV division. We employ highly-trained pilots, mapping staff and a management team that continually provide these services to clients and teaming partners.
UAV Mapping and Large Projects
There is a misconception that UAVs aren't feasible for large projects. UAVs can absolutely be used, and should be. We can cover as much territory as we need to, even though it does take slightly longer to map a large project with a UAV than with a manned aircraft. For example, it could take three-to-four days to cover a 5,000-acre site using a UAV while a plane might cover the same project in a single day. However, UAV mapping provides higher data accuracy with a faster turnaround time at a more competitive cost.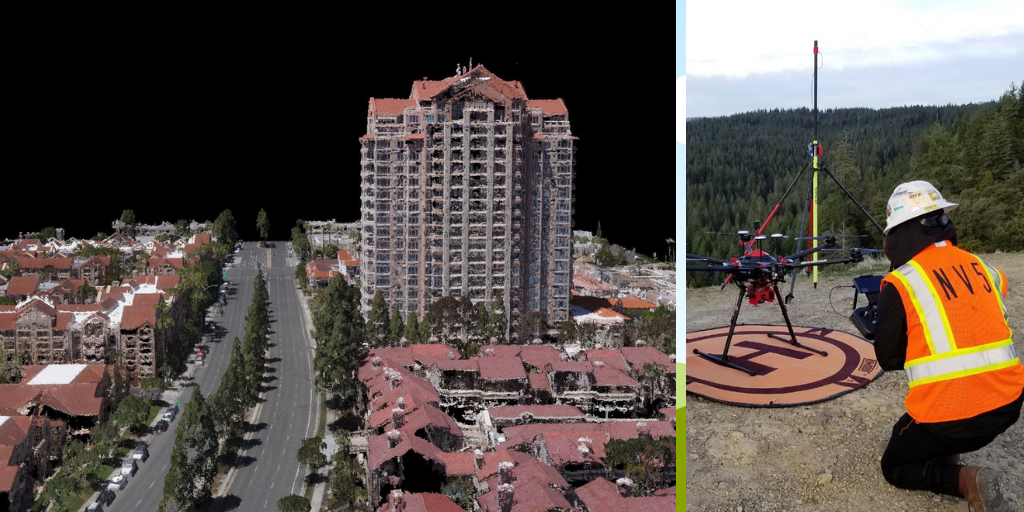 For instance, a plane can cover 100 miles in one day, but all the data collected still has to be processed, extending the timeline of a mapping project. With a UAV, we fly ten miles on Day One and then start processing the data and sending it to our internal workflows. On Day Two, we fly the next ten miles and then process that day's data. We can begin delivery of the product more quickly because we get the data back to the office incrementally and start engineering it sooner.
Our UAVs still carry the same equipment on board as a manned aircraft, but UAVs can fly lower and slower, capturing denser, more accurate data.
On the other hand, for enormous projects involving tens of thousands of acres, manned aircraft is a more realistic option. For example, the National Oceanic and Atmospheric Administration (NOAA) will choose manned aircraft to fly the entire coast of Alaska. UAVs are not the appropriate choice for a mapping project of that size.
What's Ahead
The power industry and energy industry are beginning to recognize the capabilities of UAV mapping services. We educate our clients and help them cut through the hype and misconceptions about drone use in the commercial space. We demonstrate our capacity to provide this service by delivering the products clients need quickly and with an incredible level of accuracy.
In just five years' time, I foresee UAV mapping will be a standardized service. Large utilities already recognize the benefits and are committed to the technology because it yields better data than other services. That's something that can't be ignored.
Contact Us:
NV5 is a leading provider of UAV LiDAR aerial mapping services nationwide. With offices across the US we can deploy pilots within hours or days. State-of-the-art geospatial sensors are integrated with our UAV fleet to capture data at densities and accuracies most have never seen. Visit NV5.com and contact us to talk to the NV5 team members who perform this work.
—-
Matt O'Brien is the UAV Director at NV5. Previously, he was the owner and co-founder of Skyscene LLC, acquired by NV5 to create leading-edge geospatial solutions. He graduated with a Bachelor of Business degree from Ashford University.