NV5 earned the Excellence Award in Surveying/Field Data Collection, announced at the 2023 MAPPS Winter Conference
Overview-  One of only six hypersaline lagoons in the world, the Laguna Madre is one of the most biologically diverse and undeveloped coastal ecosystems in North America. Covering an area over 1000 km2 along the Gulf of Mexico, the lagoon is long and narrow, and extremely shallow (averaging only 1.4 m in depth). Even the Gulf Intracoastal Waterway, which joins the Upper and Lower Laguna, was dredged to only 3.7 m deep and 42 m wide to allow for vessel traffic, increasing maritime commerce and recreational access. The lagoon's hypersalinity, caused by its isolation from freshwater inputs, shallowness (increasing evapotranspiration) and a dry climate, averages from 36 to 45 parts per thousand (ppt), above the level found in seawater (35 ppt). Its network of wetlands, grasslands, marshes, shallow bays, tidal flats, and barrier islands provide critical habitat for over 200 bird species and most notably 90% of the North American population of overwintering Redhead Ducks (Aytha americana). The lagoon's unique seagrass ecosystem (five species) serves as essential nursery areas for over 37 species of commercial or recreational fish, shrimp and crab, and provides essential food and shelter for waterbird populations.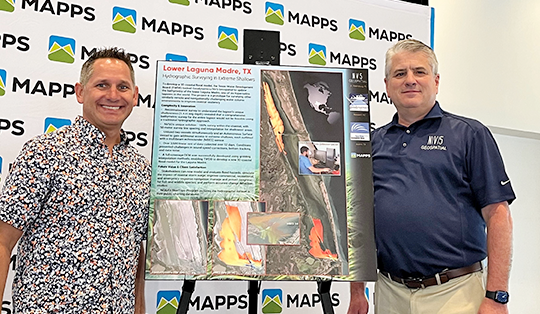 The Laguna Madre has not been surveyed for decades, certainly not to modern standards and not since several new remote sensing technologies have become available. As part of an ongoing geospatial data collection program, the Texas Water Development Board (TWDB), along with other federal and state stakeholders including the National Oceanic and Atmospheric Administration (NOAA), have been focused on developing a 3D coastal flood model for the Texas Integrated Flooding Framework (TIFF) and Strategic Mapping (StratMap) Initiative, which will support state, regional, and local mapping needs for gems like the Laguna Madre.
To enable accurate coastal flood inundation modeling, hurricane storm surge simulation, regional flood planning, and coastal resiliency studies, the TWDB recognized that fully understanding the bathymetry of the lagoon was essential to improving coastal resiliency, a principal goal of the agency. Hydrographic data have a multitude of additional applications including dredge planning, navigation guidance for maritime commerce as well as spill response, monitoring of changes in channel geomorphology, and improved management of seagrass and other benthic habitat for fish and wildlife. Over the last five years, the agency has contracted several geospatial mapping and surveying projects to update the bathymetry with the most recent effort to collect new vessel-based modern sonar or multi-beam echo sounder (MBES) data in those portions of the lower lagoon which have proved difficult to map solely with aerial lidar. The TWDB contracted Geodynamics (now NV5 Geospatial) to tackle this unique challenge of collecting, processing, and analyzing the MBES data towards a full coverage digital elevation model (DEM) for coastal flood modeling and nautical navigation charting.
Complexity & Innovation–   With the coordination of several sensors, vessels, and surveyors, and a complex survey approach, the project required sizeable ingenuity, innovation, and tenacity on the part of the NV5 Geospatial (NV5G) acquisition team to pull off. Collecting hydrographic data within the Laguna Madre was no simple task — features of the lagoon such as poor water clarity (from winds, sedimentation, and soft lagoon bottom) and particularly its shallowness and remote location impacting accessibility and navigability, were at first foreboding. The renowned shallow nature of the lagoon coupled with out-of-date nautical charts and less than ideal available aerial imagery warranted a reconnaissance survey to assess how, when, and with what instruments to collect the multibeam data. Using single beam sonar, this survey revealed that depths ranged from only 0.5 to 1 meter for much of the area, indicating that to comprehensively survey the entire lagoon would not be feasible using a typical hydrographic approach. Our specialized solution included utilizing two purpose-built survey vessels simultaneously and an Autonomous Surface Vessel (ASV) to gain access to the extremely shallow areas. NV5G drafted a survey design which included 100% coverage within the channel, and a 50-meter survey line spacing sampling approach within shallower portions of the lagoon to minimize survey time and cost.
The Research Vessel (R/V) 4-Points, and the catamaran R/V Echo, both owned and operated by NV5G, were selected for the multibeam survey. For the ASV, we deployed the 16-ft WAM-V (Sandpoint Hydrographic) controlled from the R/V 4-Points and programmed to follow the same set line scheme as the other vessels. Data were collected with a multifaceted sensor configuration ideal for shallow waters, comprised of a Kongsberg EM2040 compact dual-head system (EM2040C-D), and two Kongsberg EM2040 Portable (P) single head systems – one mounted on the R/V Echo and one mounted on the WAM-V. Since the ASV was surveying in tandem with the R/V 4-Points, the real-time sound velocity corrections from the 4-Points were also used to correct the data collected by the WAM-V. Finally, to provide valuable information about the nearshore environment, sedimentation, and beach condition, NV5G conducted a bathymetric beach profile when wind, sea, and tidal conditions were aligned to obtain data in the surf zone and ensure overlap with the topobathymetric lidar coverage area.
The hydrographic survey was conducted over 52 days (Oct 14 – Dec 9, 2021) wherein approximately 3,575 linear nautical miles of data were collected within the 88.6 nmi2 survey area. The combination of windy environment, shallow water, soft bottom seafloor, and turbid water column presented challenges in handling sound speed corrections, bottom tracking, and data noise. Surveying to a defined Navigable Area Limit Line (NALL) in ultra-shallow water required diligence from the hydrographer and coordination with QC and data processing in real-time to ensure coverage and safety during the survey. Because of the remote nature of the Laguna Madre, NV5G needed to install a Pepwave MAX mobile cellular router on the vessels to maximize data and communication connectivity, allowing the field crew and the office/support crew to communicate on acquisition status and provide support. A custom NV5G-developed, cloud-based GIS application – the Survey Information Management System (SIMS) – was used to monitor real-time progress of the project/vessels. SIMS also provides statistics on survey completion, total line miles by area/vessel, and overall project coverage, all of which was accessible to the TWDB in real-time.
Once collected, the data went through rigorous post-processing and QC workflows that would maximally extract the inherent information present within the datasets and render the most accurate and artifact-free DEM of the Laguna Madre. In the field, data were processed by offsite processors remoting into onsite computers. Using Caris HIPS and Applanix POSPac software, NV5G processed the set-line spacing multibeam data to NOAA HSSD standards and documented all features identified within the sounding data. We further enhanced the project deliverables by developing from the set-line data a full-coverage DEM using customized gridding interpolation methods. A full report consisting of survey methods, GIS maps, survey results, and QA/QC was produced along with all deliverables (including ATON Aid to Navigation documentation and feature reporting) required for the various applications of this survey.
Future Value & Client Satisfaction–   Results of the Laguna Madre hydrographic project have led to several societal and economic benefits on both a local and global scale. The TWDB and other stakeholders now have the understanding they need to model and evaluate flood hazards; simulate the impact of coastal storm surge; efficiently focus dredging operations; improve commercial, recreational, and emergency response navigation; and effectively manage and protect critical seagrass and other benthic habitats for sensitive fish and wildlife species. TWDB Coastal Science department modelers are integrating the new MBES sonar data with existing lidar to increase the accuracy and coverage of digital elevation models covering the bathymetry of the Laguna Madre. NOAA's BlueTopo Program has also accepted the hydrographic dataset and included it in their public charting database. Following a "map once – use many times" mantra, high quality baseline data will not only enable several applications, but also allow for accurate change detection studies into the future.
As management and planning efforts focus towards improving infrastructure and resiliency in shallow coastal environments, projects like the Laguna Madre Hydrographic Survey serve as a valuable guide. The technologies, study design, and operational approach employed by NV5G to collect bathymetric data in the hardest to reach areas of a shallow lagoon serve as a prototype for surveying other similarly remote and navigationally complex coastal landscapes. Using multiple sensor/platform configurations (boat and ASV, two sensor types, reconnaissance collect) and real-time QC to optimize 3D bathymetric modeling is a promising new approach and force multiplier for similar projects in challenging broad, remote, and complex water column environments.