A Photographer and Engineer, Clyde Sunderland was a distinguished aerial photographer known for his work of both vertical and oblique images of the greater San Francisco Bay area. His success taking dramatic aerial photos was in good part due to his role as a Naval Reserve Officer based at the Oakland Airport. He is only one of two life members of the Professional Photographers Association, the other is Ansel Adams.
Clyde Sunderland forged special relationships with aviators of the Oakland Airport, and it was through these personal connections that he gained access to photograph many iconic figures and historical moments. Personalities include the likes of Amelia Earhart, Charles Lindbergh and Howard Hughes.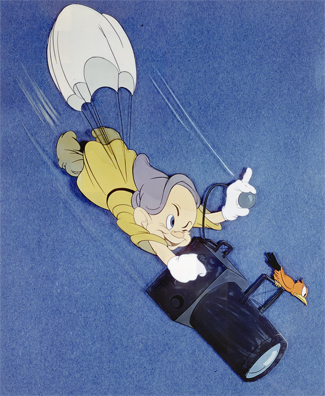 It was believed that Mr. Sunderland was a personal friend of the famous Walt Disney. The drawing of "Dopey" with an aerial camera appeared as nose art on Mr. Sunderland's plane, and the Pacific Aerial Survey's brand was long rumor to have been designed by Disney. This connection was later confirmed when an original hand drawing, signed by Disney, was purchased at Clyde Sunderland's estate sale.
Sunderland's work includes the construction of the Golden Gate and Bay Bridges, the Dole Air race, the U.S. Navy's Seventh Fleet, and the famous Pan Am Clipper Airships. Photographed from aircraft, Sunderland's imagery offers a truly unique perspective on history typically absent from archival footage depicting the early twentieth century.
Pan Am commissioned Sunderland for a variety of marketing purposes which included the "First Flight" of the S-42, Pan Am's flight charting the Pacific, and the China, Hawaiian, and the Philippine Clippers. Additionally, he captured a rare color photo of the Boeing 314, a print held by the Smithsonian Air and Space Museum.  One of Sunderland's obscure photos is the "Flying Cloud" a Boeing S-307, used in a marketing campaign. Today, only one of these aircraft remains in existence, restored and housed at the Smithsonian. Many of Sunderland's photos became Pan Am Posters or appeared in periodicals including two covers of Life Magazine.

The Clyde Sunderland Collection is part of Pacific Aerial Surveys, a portfolio owned and curated by Quantum Spatial. Beyond the artform, Sunderland's photography have been instrumental in providing a window into history. At Quantum Spatial we generate digital, orthorectified images and can extract features such as buildings, vegetation, contours and drainage patterns from photo coverage of any year. Additionally, we perform change detection analysis across years. Utilized for applications ranging from real estate and legal services to mining and environmental, the photographs are available for purchase: for more information, contact us by sending us a message from our Contact Page.
Learn more about all of our historic collections on our Historical Archives Page.