For the second year in a row, the Portland, Oregon office of Quantum Spatial held a food drive to support the Oregon Food Bank.  The effort was facilitated by Brian Slaughter, who placed food bins on each floor, crafted encouraging emails, and placed motivating posters all around the office.  To boost participation, he also recruited a trio of volunteers to sing karaoke, dress-up in costume, and take a pie in the face when specific donation levels were met.  All levels were met, and the shenanigans occurred this week.
Food and cash contributions totalled 3,530 meals, an average of almost 12 pounds of food per employee.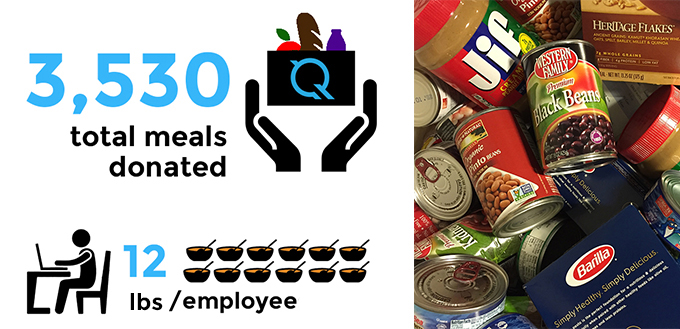 The camaraderie and consideration displayed by Quantum Spatial employees is truly remarkable. Whether it is supporting each other to overcome routine workday challenges or taking the initiative to organize a community event, the dedication to lend a hand helps build a better place to work.  As 2017 begins, we're looking forward to more opportunities to improve ourselves and our community.