In celebration of National Surveyors Week, we're spotlighting some of our dedicated surveyors and sharing their insights of a survey career.  If you are interested in employment opportunities check out our openings HERE.  Or, get in touch with us: 800.558.6707 / contact@quantumspatial.com
Emily Gottesfeld
Field Surveyor, 8 years at Quantum Spatial
Approx. 30 US States surveyed (and the British Virgin Islands!)
What do you like most about your job?
I like the travel and the variability of field locations. I like working outside, often in remote and beautiful areas.  I've traveled to places I probably never would have gone otherwise and have gotten to see much of the country, plus a handful of locations outside the US. I also love my coworkers – we have a really amazing community of people, and I've made lifelong friends with many of them.
What's your favorite work location?
It's a toss-up between various parts of Alaska and the island of Anegada in the British Virgin Islands.  Though working in a tropical paradise, eating fresh lobster, and snorkeling (during my downtime) for a week was pretty amazing, my favorite work rotation ever was in Ketchikan, Alaska. In order to get to the work sites on various islands and other places inaccessible by road, I would hop on a float plane and take a ride to a floating helipad, where I'd then transfer to helicopter.  I don't think it gets any better than that!  Alaska is definitely my favorite state to work in; it's vast and beautiful and so very different.
What kind of project is your favorite?
I like challenging projects – whether they're challenging because they're located in really remote areas and require a lot of extra planning, or because there are more stringent data requirements, or daily tasks I'm not as familiar with.  Driving crazy back roads in the mountains, totally away from civilization, can be really fun!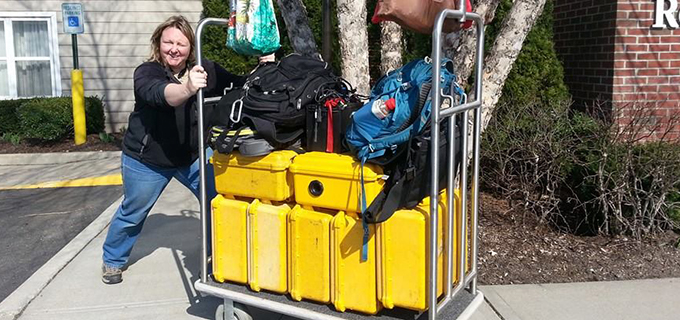 When not working what do you like to do?
I like to travel for fun, although I travel so much for work, sometimes it's nice to just stay home. My hobbies include horseback riding. My horse, Storm, is almost 24, and I've had him since he was a yearling.  I love to kayak and ski.  I also love game nights with friends and enjoy a good book.  I can often be found Netflix binging after I get home from a particularly busy work rotation.