For GIS professionals, overlaying multiple geospatial data layers on a map for analysis and decision making is all part of a day's work, but for most people geospatial analysis begins and ends with typing a destination into a mapping app and following the directions. Conveying complex geospatial information in a meaningful way to non-GIS professionals is a challenge that Quantum Spatial is solving for the Bureau of Ocean Energy Management (BOEM) and the National Oceanic and Atmospheric Administration (NOAA) through development of the Ocean Reporting Tool (ORT).
The ORT was highlighted during a session presentation by Christine Taylor (BOEM) and later demonstrated by David Stein (NOAA) and Jeff Skahill (Quantum Spatial), at the recent Coastal GeoTools conference in Charleston, South Carolina. Both presentations received positive feedback and many questions were asked about the public roll-out of the application. The product is currently being deployed on NOAA's infrastructure with the expectation that it will be available to the public later this year. The current release is focused on the offshore East Coast waters from Virginia to Florida, but future enhancements will extend the geography to include all coastal areas.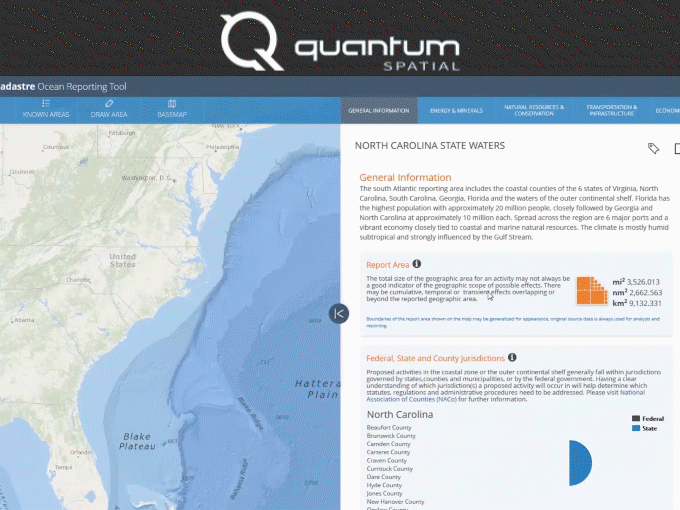 ORT will be part of MarineCadastre.gov which is a joint initiative between BOEM and NOAA to provide authoritative data to the offshore energy and marine planning community. The Ocean Reporting Tool, currently under development, is a complementary component to the MarineCadastre's existing tools and offers an easy to consume, but content rich, visualization of ocean-based data for public users who may not have geospatial expertise, such as ocean planners, policy analysts, and the press.
Quantum Spatial has been working with BOEM and NOAA to design and develop all components of this new application. The project began with a vision from BOEM and NOAA that needed to be translated to a working solution. To move forward on bringing the most value to our clients, Quantum Spatial employed their customized agile methodology to iterate through requirements gathering sessions, wireframe reviews, data prototyping and development, then front-end and back-end development to build a tool that fulfills the initial vision.
Quantum Spatial is utilizing their experience in data development, UI/UX design, application development, and system integration. The tool is built in JavaScript using the AngularJS framework and Leaflet library on top of ArcGIS for Server services. The geospatial content is provisioned through a complex geoprocessing service that renders data for over 40 different infographics.
Quantum Spatial's Enterprise GIS team is providing its expertise to many clients in the natural resource management community, and is ready to help you solve your challenging problems!